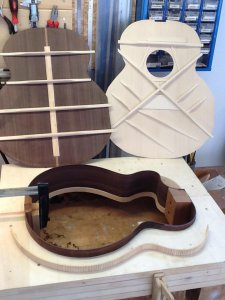 As a long time guitarist and carpenter I have fulfilled a dream and established my own guitar workshop in Mühltal near Darmstadt.
There I exclusively create individual and absolutely handmade instruments.

In addition to building guitars, I have developed my skills in the construction of mandolins, Irish bouzoukis, mandolas, and banjos.
Of course I also offer repairs, setups and pickup installations for guitars and stringed instruments.

Kind regards,
Hans Herwig Eckert